I love meal prepping. There is just something amazing about eating home cooked meals while away from our home, sweet home. While meal prepping, I have ended up saving so much money and time by avoiding drive throughs. I feel healthier, too, which is great, since I'm trying to shed some of that left over baby weight.
If you're like me, you might benefit from my favorite meal prep tips.
Three Pairs of Three
I always start with my sets of three. By that I mean, I cook three main dishes, three sides, and three snacks. Every week, I rotate my "threes," so my husband and I never get bored of just one food. Some of our favorite main dishes are BBQ pulled chicken, air fried garlic shrimp, or smoked turkey breast. We love sweet potato fries, skinny "crack" green beans, or Black Bean Salsa for our sides. We also eat a bunch of bread and butter pickles, garlic hummus with pretzels, and fresh fruit.
The joy of meal prep comes entirely from the convenience and the flavor, so it's important that we save time as much as possible and use the highest quality ingredients. This means that sometimes, I'm not going to make everything from scratch.
Like 95% of all women across the globe, I turn to Pinterest for recipes. My standard search is "Weight Watchers recipes" because I am constantly trying to create foods that are low in points. It's important to my husband and me that we keep our weight at a healthy level, especially since we are predisposed to overeating and binge eating. We love weight watchers. It's easy. Really! For those that are new to weight watchers, or unfamiliar, we are given a certain number of "points," depending on our weight, height, and goal weight. Every food has an assigned point value. For example, I eat 18 points on the purple plan, while my favorite food, sweet potatoes is zero points.
We are loving the purple plan! This plan has around 100 more zero point foods to choose from, and while we have to watch our carb intake, we are feeling full longer and giving into cravings less often. If you're interested in joining weight watchers, there are always great deals to make it more affordable. For those of us that have a tighter budget, there are some free apps that you can use. My personal favorite is iTrackBites. You don't get the amazing community that WW offers, but you do get the most important part: the tracking!
Main Dishes
BBQ Pulled Chicken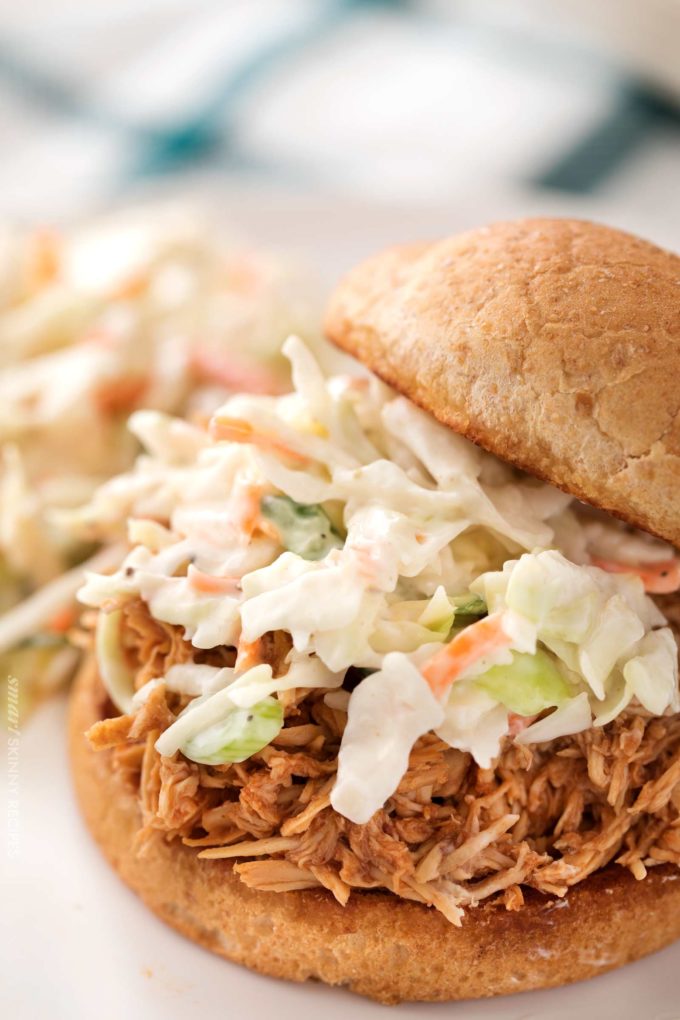 I was scrolling through Pinterest a few weeks ago when I first found Amanda's BBQ Pulled Chicken recipe. I was really craving a BBQ, and knew I could throw something together in my instant pot. I avoid pork and other "point" meats because there's nothing inherently special about them. I don't think pulled pork is worth 15 points, where chicken is zero.
Amanda's BBQ chicken is low in points because she creates her own BBQ sauce. Bottled sauce is very high in points and sugars, which we want to avoid. That being said, we can still indulge in that sweet brown sugar BBQ sauce that we all know and love.
This BBQ Pulled Chicken recipe is only 1 point! It can be paired with a bun for an additional 4 points, or you can eat it in a salad bowl. Either way, this makes a perfect main dish for Meal Prepping!
Air Fried Garlic Shrimp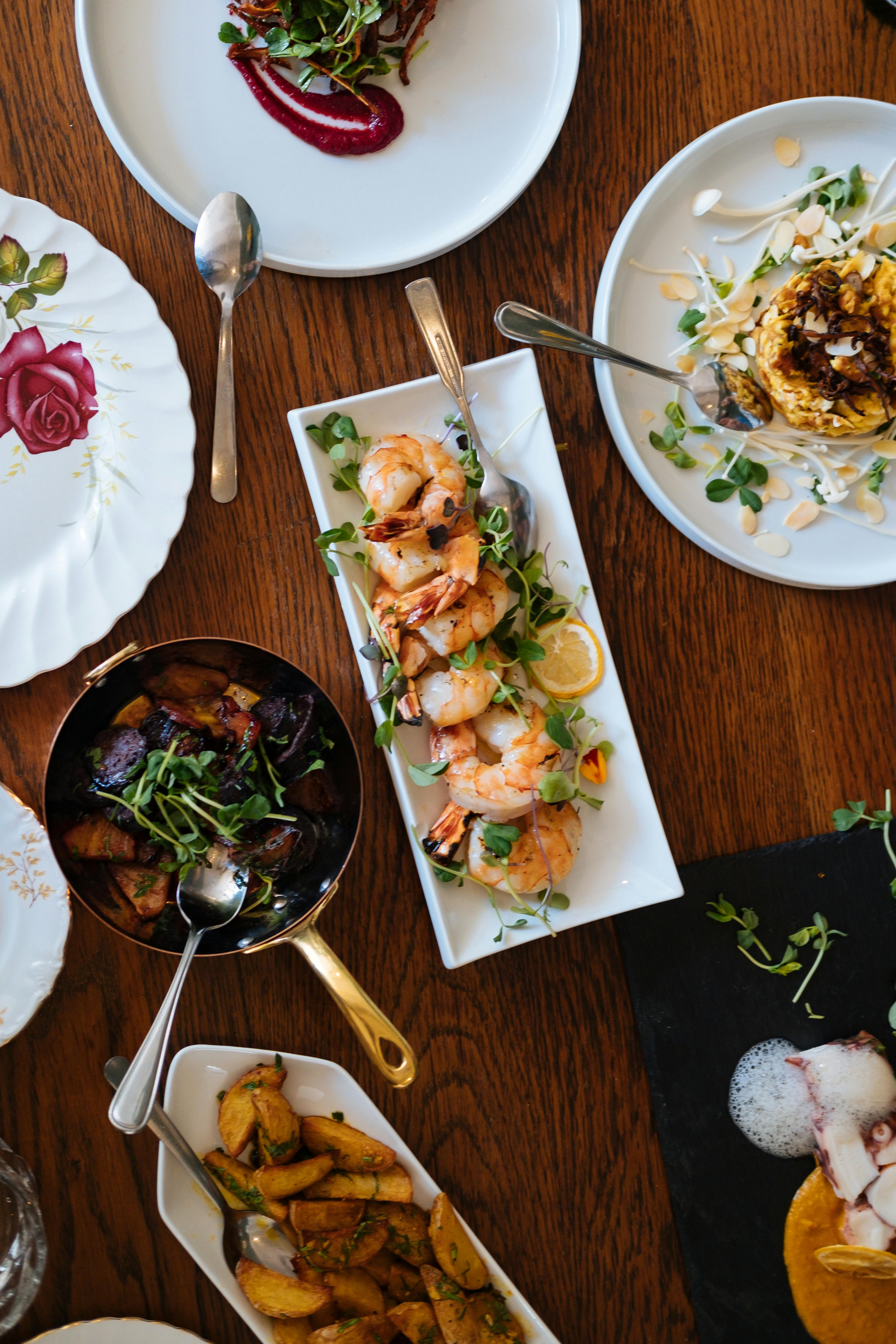 I actually made this last night, and OMG! It is amazing! I could not, for the life of me, figure out how to make crispy shrimp at my own home. My shrimp always ended up being a little soggy and gross, but last night, I got the bright idea to throw some shrimp in the air fryer. Genius! How did I not think of this before?
I like to keep my seasonings simple, so I just splash some oil on frozen, deveined, raw shrimp with garlic powder, salt and pepper. For a one pound bag of frozen shrimp, I use about one tablespoon of garlic powder with a teaspoon of salt and pepper. I air fry my shrimp at 400 degrees for 15 minutes. My shrimp were crispy and delicious. My mouth is watering right now as I think about it! When's lunch?!
Shrimp is zero points on weight watchers, but with vegetable oil, this shrimp ends up being 1 point!
Smoked Turkey Breast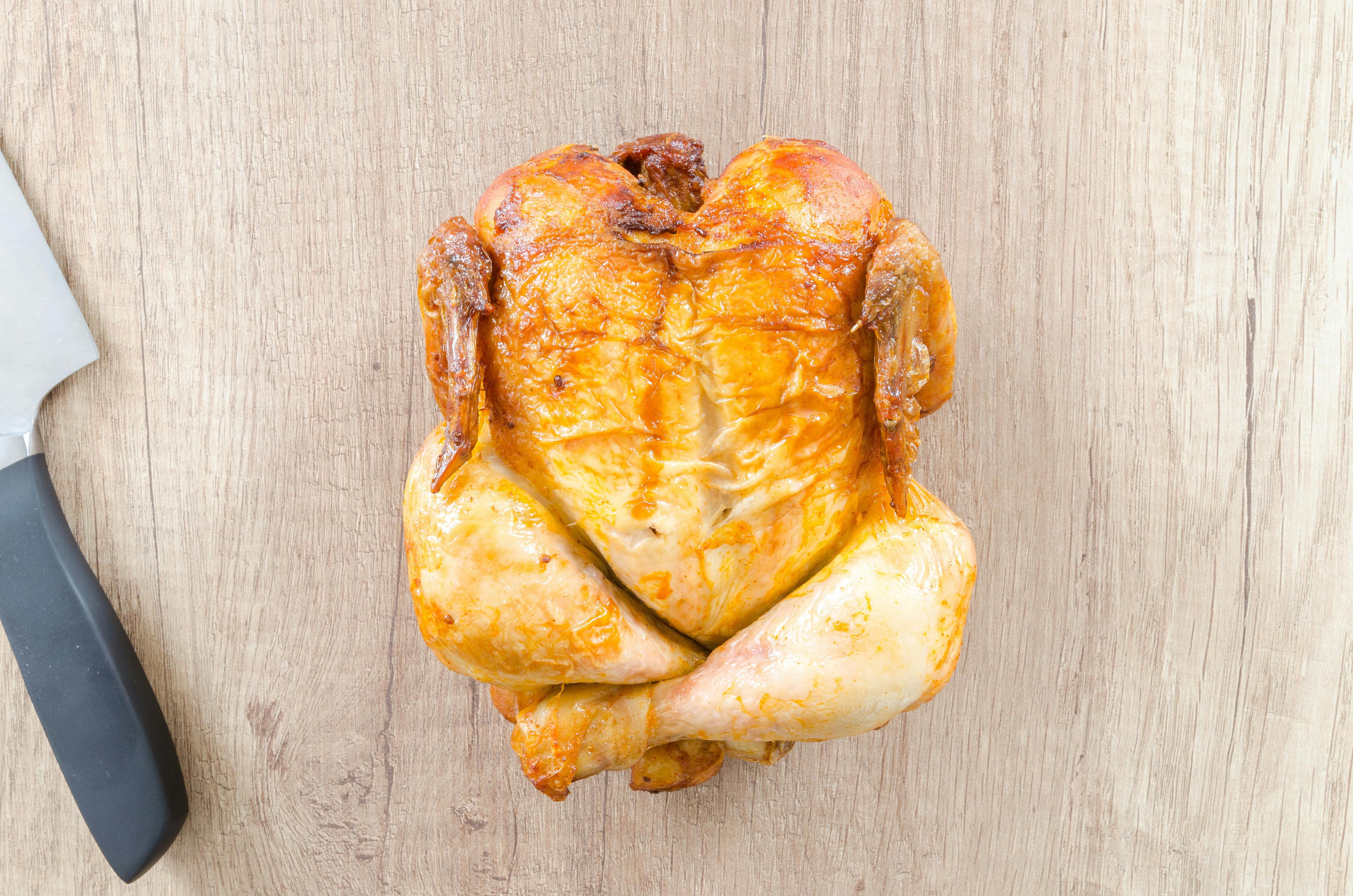 My husband is obsessed with his smoker, and frankly, so am I. Smoked meats have that majestic aroma that are common only among delicacies, but there is no hassle! With smoked meats, you can just prep it, pop it in the smoker, and leave it. A smoker is essentially a man's crock pot.
My husband smokes his turkey using a honey cayenne rub that he created. He marinates the meat over night, and smokes it at 350º for 30 minutes per pound, or until the bird reaches an internal temperature of 165º. We love to use pecan wood chips in our smoker, but we have tried many different flavors like applewood and hickory. Ideally, you want to use chips with a fruitier taste when smoking turkey.
Skinless turkey breast is zero points on weight watchers!
Sides
Sweet Potato Fries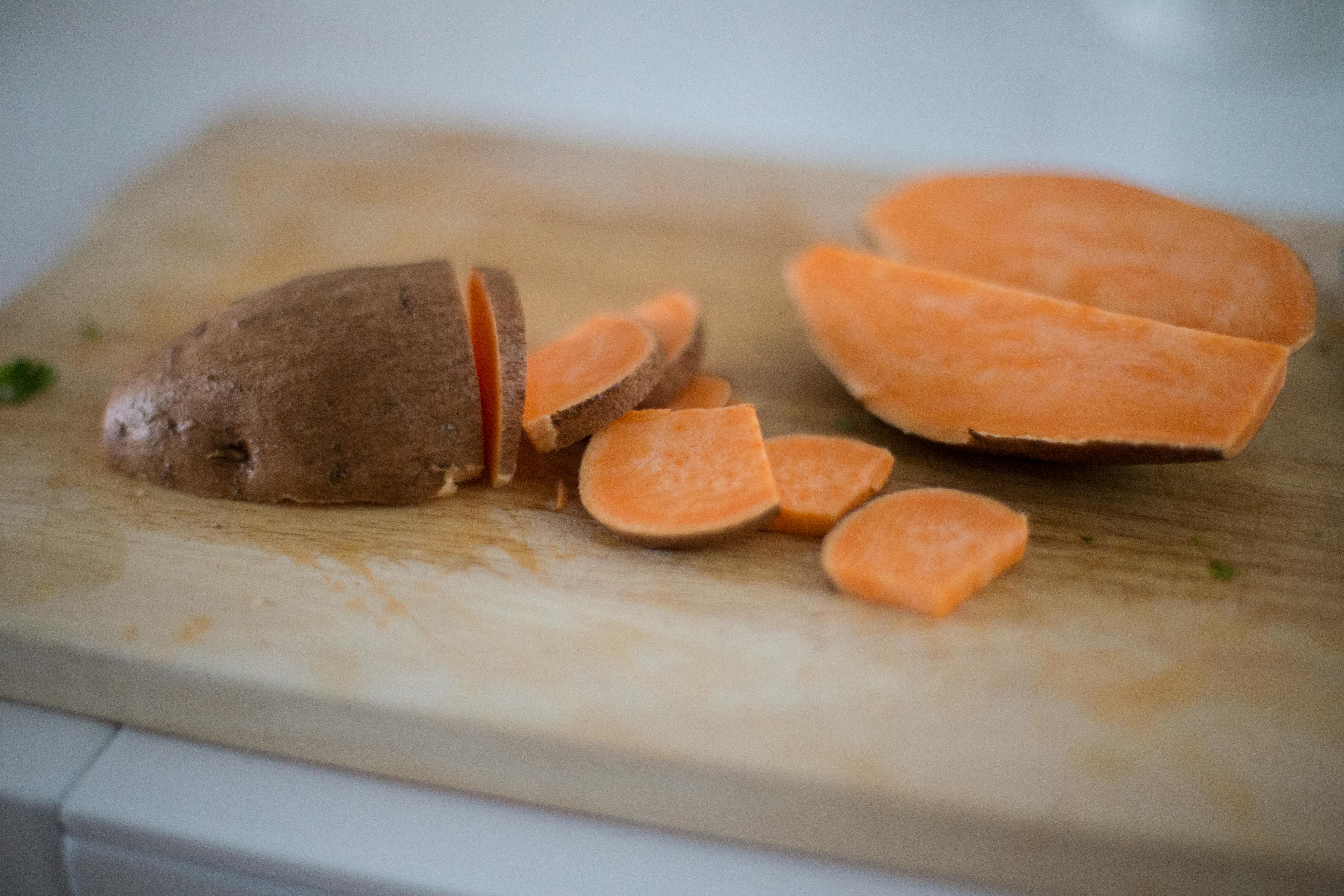 Sweet potato fries are my absolute favorite food! They are SO good, they're healthy, and they feel like junk food. Granted, I'm sure you could make these unhealthy, if you really wanted to, but we keep ours as healthy as possible. On the purple plan, these are zero points. If you're on the blue plan, a small sweet potato cut into fries are only 3 points! I make my sweet potato fries from scratch. I never buy frozen fries because they are more points.
Thankfully, sweet potato fries are super easy to make. I cut one small sweet potato into fry like shapes. I never peel my potatoes, but you could if you wanted to. I spray my fries with Pam and add salt and pepper to taste. I then bake my fries at 450º for 15-20 minutes. I dip my fries in 1 TBS of Ketchup, which is only 1 point!
Skinny "Crack" Green Beans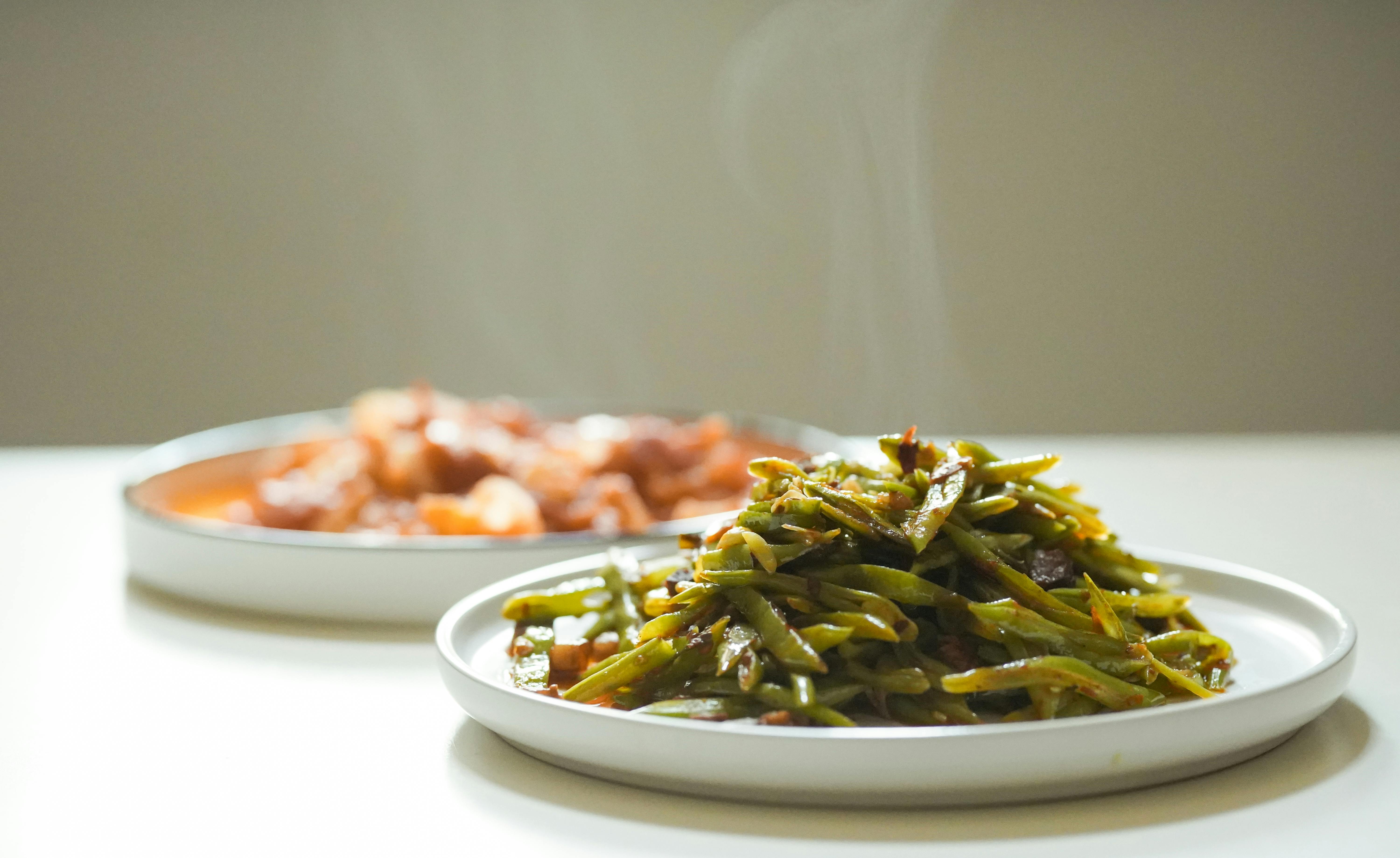 So I have loved "Crack" green beans since I have tried them, but they are fatty. Like. Big time. I didn't want the calories, but I wanted the taste. I craved it! I decided I would have to do some experimentation and create a "skinny" version, and guys, it's dead on.
Traditional "Crack" Green Beans use brown sugar, butter, garlic powder, onion powder, and soy sauce. I omit the butter, or I use I Can't Believe It's Not Butter's spray butter instead, and use sugar free brown sugar by Sukrin Gold. I had a very hard time finding it in store, and if you live in a tiny, southern town, like me, you'll have a hard time too. You can get your own Sukrin Gold, here! You have to "eyeball" some of the ingredients if you make a bigger or smaller batch than I do, but really, you can't go wrong with this recipe.
My version of "Crack" Green Beans is zero points on Weight Watchers!
Black Bean Salsa
You can use this black bean salsa to stuff a sweet potato, to top a taco, or by itself, like we are doing here. Black bean salsa is such a versatile food! It's flavorful, ridiculously easy, and it's cheap. This entire recipe can feed eight for under $5, and best yet, it's a zero point side! I like to use Jenn's recipe at Peas and Crayons because it's the perfect ratio of black beans, corn, cilantro and flavor! I also liked to add in some jalapeño, raw or pickled, to give this salsa a little kick.
Snacks
Hummus with Pretzels
I'm not trying to make my life harder. If you love homemade hummus, I say, "go for it!" For me, though, homemade hummus takes too long to make and it goes bad too quickly. I buy Sabra Roasted Garlic Hummus, and I love it. If you're feeling adventurous and have time to spare, however I highly recommend Katie's Roasted Garlic Hummus. I'll admit, this hummus is way tastier than Sabra's, and I love to make it for parties.

I pair up my hummus with these cute, flat pretzels by Snack Factory. (You can get these for less than $3 on Amazon!) I can binge eat these pretzels, but I limit myself to 13, which is more than enough to scoop up a couple of tablespoons of hummus.
All together, this hearty snack is only 5 ww points!
Bread and Butter Pickles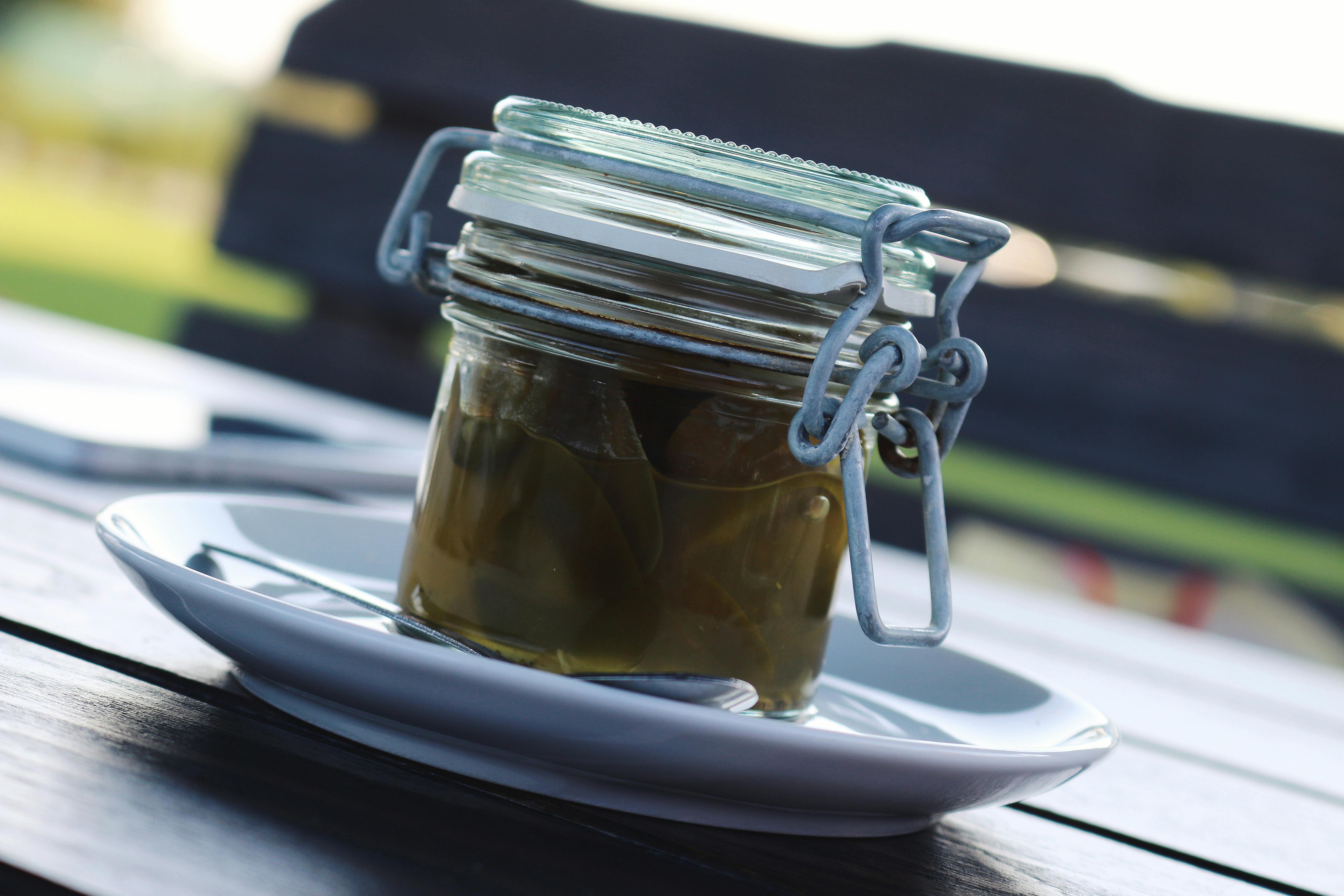 Bread and Butter pickles are surprisingly easy to make from scratch, but like I said earlier, my goal is to make life easier, not harder. I add Bread and Butter pickles to my lunch bag, and I snack on them in between breakfast and lunch. This light snack holds me over to lunch, and frankly, I just enjoy the taste of bread and butter pickles. Dill pickles are a good substitute for those that don't like bread and butter pickles. Once again, pickles in moderation are zero points.
Fresh Fruit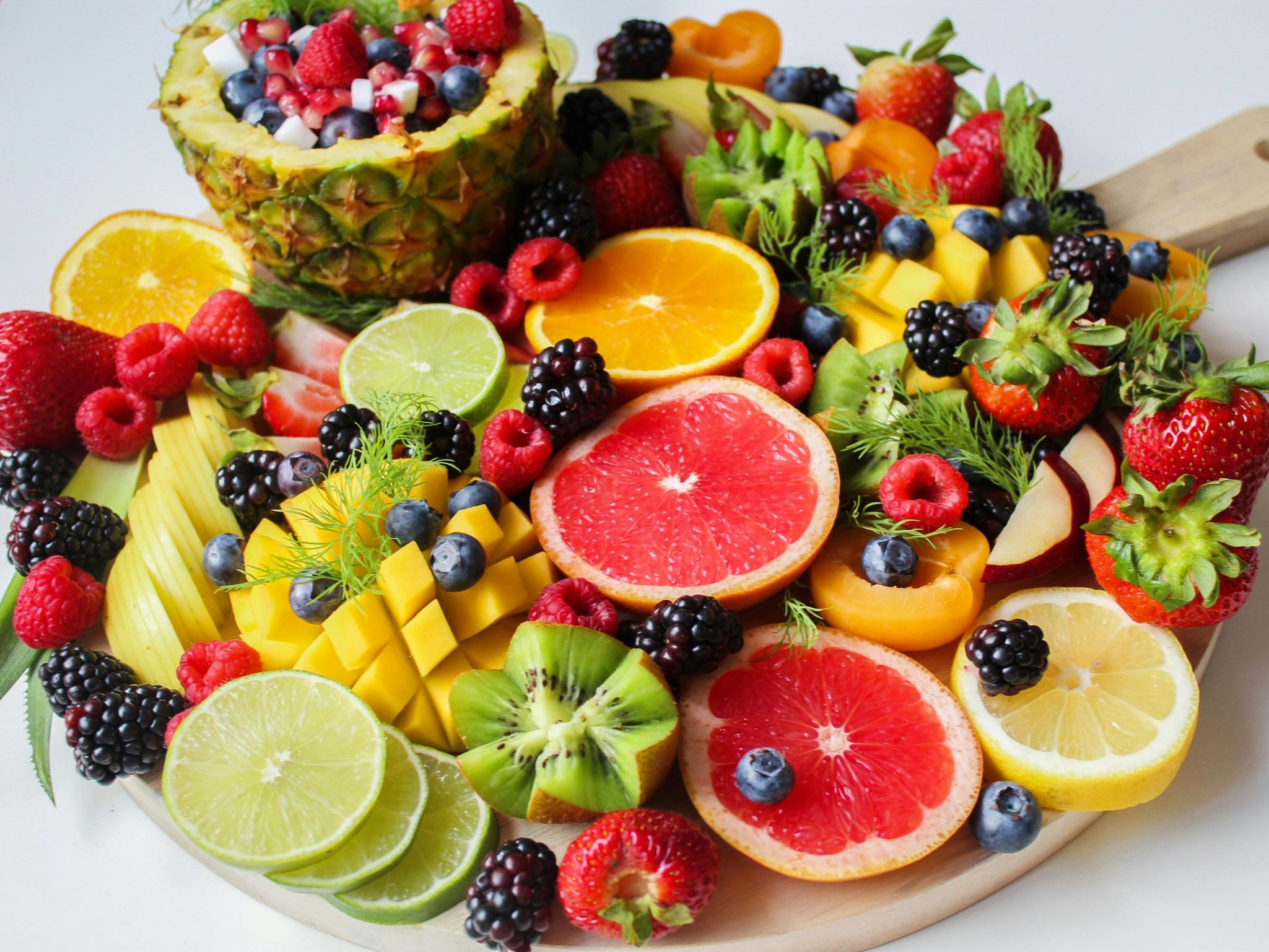 Fresh fruit can really satisfy a sweet tooth, so I eat fruit when I need a snack. Fruits are all zero points, even bananas! Because fruit can used in various dishes, it's the perfect go-to for someone looking to lose or maintain their weight.
I've heard many people say that fruits are high in sugars, which will make you gain weight. While fruit is high in sugars, remember that our body needs sugars to run properly. Fruit sugars, also known as carbs, are our main source of energy. If you've ever been on a low carb diet, one of the first things you'll notice is a dip in your energy. Have you heard of the Keto Flu? That's your body transitioning from burning sugars to burning fat. You can read more here, if you're interested in the Keto Diet.
For my family, we prefer to eat as "clean" as possible. We eat whole grains, partially because of the taste and texture (YUM), but also because we like to avoid preservatives and dyes. We prefer fresh fruits and veggies, apposed to canned, processed veggies, though I do have a canned veggie recipe above. It's all about moderation! We like to avoid sodas, caffeine, heavily processed cheeses, etc. Because of our preference, we could never dream of cutting out fruits and vegetables. They're too much of a staple around our house, and we love the nutrients we get from them, regardless of their sugar content.
Here are some of my absolute favorite recipes that make fruit the absolute perfect snack:
Honey Lime Fruit Salad – omit the quinoa to make this only 1 point per serving!
Fruit Kabobs – zero points!
Fresh Fruit Popsicle – 3 points per "pop"
Fresh Fruit Yogurt Bark – 3 points and can I said, YUM!